I'll never forget the looks on the faces of the young people in Richmond who were sitting in the audience after I told them that I had gotten the money to produce my first play from a slot machine at Thunder Valley Casino & Resort. I wasn't actually there to gamble. In fact, I had never gambled before. My mom had gotten a room for the night as a getaway and we walked through the casino for fun. I followed my younger brother around the casino as he explained to me how to be successful in the casino. You know, the do's and the don'ts. Finally, he chose a machine and settled in. I watched as his balance went down. Shortly thereafter, I watched my brother lose all of his gambling money on that one machine. Although I had said I wasn't going to gamble, my older sister/protector instinct kicked in and I felt compelled to win it back. I told him to get up. His excitement returned. Then, putting my $20.00 bill in the machine, I had four chances to win on this machine that took five dollar bets. According to my brother you have to gamble big to win big. So, I bet $5.00. Nothing. $10.00. Nothing. $15.00. Nothing. Then, on the last five dollars, the machine starting ringing. Loud. Running towards the machine, my mom came over, excited and amazed: "You better get up! You won!" Sure enough the machine was counting my win which was in the thousands. Happily confused about what was happening (those machines are hard to read) I sat in amazement. A staff member of the casino came over and counted the money into my hands. Then, before he left, he told me to play the machine again. I did and, I won again. Another $500.00. He walked away smiling saying, "She's still winning." I handed my mom and brother around $500.00 each. Then, I said, "Let's go to the room." Putting a couple thousand in my luggage, I knew that God had provided the money I needed – the money I had prayed for – to produce my first play in Atlanta that October. We went back downstairs and kept winning the rest of the night.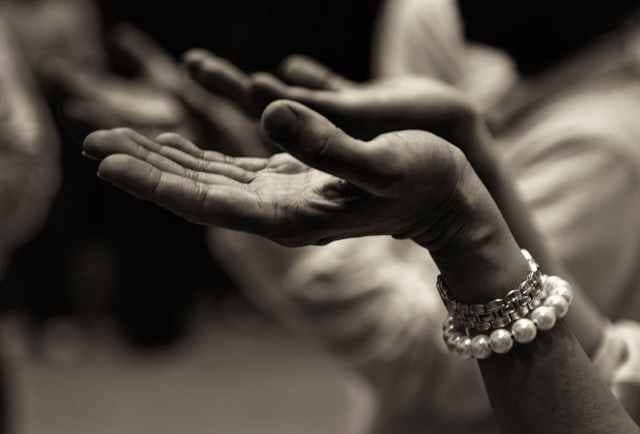 Now, for all of you who are too holy to believe that God can move through a slot machine, first, ask yourself this: how many times have you refused to give financial help to a young black woman with an entrepreneurial endeavor because you were too busy judging her? How many of you have actively sought out someone trying to advance her work for God in her own business so that people who love God can have dominion in the business arena? My guess is not many of you. How do I know? I know because I had asked my church to support my production. After all, I was doing God's work. Isn't that what churches want to support? No. Well, not mine. I had asked other churches that I was connected to. Instead of cheerful givers – you know, the kind God loves? (2 Corinthians 9:6-7) – I was met with skepticism. One minister even insulted me by referring to my work to another church member as, "…what she perceives to be a ministry" as if to say, "I don't perceive it that way." I had asked friends, family, and the bank. No help came. I had exhausted every option that I had. No person — Christian, heathen or otherwise — was interested in supporting a young black female entrepreneur with producing her original play about a true story of police brutality in a Christian community that had been selected for production at an upcoming festival. The lesson is this: when the church and the so-called "people of God" fail to support the work of the kingdom, God will use whatever vehicle is available to get help to the disciples of his son, Jesus Christ.
I don't say this to ridicule anyone. If God wanted to send a donor, he could have done so. Yet, just as God did with the people of Israel in the desert between Egypt and Canaan, God was teaching me to rely on his love and provision, only. And, when The War at Home won Best Play at the Atlanta Black Theater Festival, that is exactly what I started to do. I realized that had it not been God moving by that slot machine, (a phrase I never thought I would write), I would have never started Run On Productions. I would have never known the power that I could have as an actress, playwright, director and producer of theater. Winning that award, meeting fellow Spelman College alumna Alia Jones Harvey, who was given the Trailblazer award for her work as the only black producer on Broadway and the first black producer on London's West End, and sharing a stage with Broadway director and legend Woodie King Jr., who was at the festival to produce Amiri Baraka's Dutchman, I knew that I was where I was meant to be and that no one had made it happen but God. By the time I got back to California, I was solidly in the seat of entrepreneur.
I share this because this anecdote exemplifies the type of Christian that this book for. You know who you are in Christ but no one else does. You have a vision that you know that you received from God but you don't know how to get started. If that is your story, do not give up. This book is for you. I've been there. Terrified, alone, doubted, rejected and painfully seeking to know how to get started and unsure of what to do next.
This book is about purpose, faith in God through Jesus Christ, and how God partners with Jesus' disciples to bring about their purpose. God called me to write about purpose in 2016. Since then, I have been researching and documenting the subject from three perspectives: from the perspective of the word of God, from the perspective of my personal experience, and from the perspective of entrepreneurship. The result of that search is the 9 tools in this book that support the God given purpose of the entrepreneur: both uncovering it and walking in it. Because I want this book to be accessible to anyone who wants it, I will be blogging this book here on bythislove.com.